A good wheelbarrow is an essential tool in every gardener's shed.
A wheelbarrow is ideal for moving compost, weeds and any bulky material quickly and easily around the garden, allotment or the stables.
County Clippers make one of the most effective wheelbarrows we have come across and here is why:
It can be converted in a few minutes from single to twin wheels.
It is lightweight, easy to clean, colourfast and is supplied with soft grip comfortable handles.
The tyres are fitted with pneumatic tubes for easy DIY puncture repairs.
County Clipper Wheellbarrows are supplied flat-packed and have the following special features:
Polypropylene tray and wheels with double ball bearings.
Zinc plated chassis for fewer scratches, less rust and longer life.
Reinforcements on the underside of the bucket which will help prevent the barrow deforming over time.
The 4-ply block pattern tyre is more durable and improves traction, particularly on soft ground.
Oversized rear brace secures the frame joint.
Seam-welded frames improve the strength of the product and the cross brace is oversized to add further support to the frame.
Solid steel skids are welded onto the bottom of the legs of all County Clipper barrows for added strength and to prolong the life of the steel tubing, and hence the barrow as a whole.
Professional grade wheel bracket and square tipping bar for better balance.
Frames are galvanised to minimise scratching and to inhibit the onset of rust.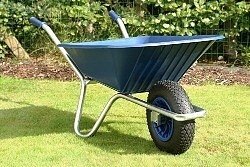 View our County Clippers
A fantastic versatile wheelbarrow for the garden.
find out more
Comments (0)
No comments have been submitted yet.
Why not be the first to send us your thoughts
Leave A Comment
Thank you for your comments, they will appear shortly once approved.