Child-friendly Gardening Jobs and activities
15 Minute Read
Are your kids bouncing off the walls or just won't put their technology down? We get it! Why not get them into the garden?
As an extension of your home, your garden is the perfect place for them to get fresh air, play and learn. We've put together some child-friendly jobs to get your little ones out enjoying the garden.

1. Watering

It's safe to say it's getting a little warmer outside, with signs of summer in the air and very little rain, your plants could probably do with a nice drink. So fill up a watering can, or even a bottle filled with water and send them off to give those plants a good old splash!

Need to keep them busy for longer? They can make the watering can!
Fashioning a watering can from a plastic bottle to make your own watering can is quick and easy, just find an appropriate size bottle (think milk bottle!) and poke some holes in the cap. Hey, presto!

Alternatively, If you're using a 1.5L/2L bottle with no handle, poke holes around the neck of the bottle but try not to go too far down the side of the bottle. Poke the holes sizes relative to your ideal rose or nozzle depending on what you're watering.

Once engineered, simply fill up with water and tip it upside down!

2. Weeding
Weeding might not be the most glamorous job in the world, but it needs to be done, and creating a game from it can make it fun! The more players the quicker the weeding.
Dig out a bucket from the shed for each participant, and see who can pick the most weeds by the time there is none left in the beds, the lawn or the patio. If there's any question as to who won, then it's time for a rematch with the front lawn.
Not only will it give them something to do, but you'll be surprised how quickly the weeds disappear when it's a game!
To make the game easier now the kids are playing...
1. Wet the soil before weeding, it allows you to loosen the weed and its root easily
2. Grab the weed by the base of the plant, right down as far as you can (don't grab by the leaves!)
3. Once you've got a firm hold, wiggle and twist it, then pull!
3. Planting & growing
Not just to make light work for yourself, but getting the little ones involved in planting bulbs, seeds or plugs are great introductory lessons and jobs to start them on their gardening journey - especially if you can allocate them their own patch to take responsibility for.
If they're impatient and want fast results, perhaps start them off with the easiest and fastest such as cress, sunflowers and salad seeds, then when their fingers start turning green move them on to those that require a bit more looking after - but not pruning roses yet!

Planting is also a great way to incorporate sensory learning and stimulate their senses by exploring the process of planting and growing!

Need to keep them busy for longer? It's time to grow Cress Heads!
1.
Clean out an old yoghurt pot or eggshell, and get the kids to decorate them to look like a face.
2.
Wet paper towel or cotton wool and place it inside the pot or shell. (Leave a 3 cm gap between the growing medium and the top
3.
Sprinkle cress seeds onto the growing medium and gently press them down.
4.
Place the cress heads into a sunny spot by a window and water daily
5. In around 10 days time you'll have a funky cress head! Once the cress reaches about 10cm, chop it off and add it to your sandwich for lunch!
4. Labelling & Decorating
It might not seem like a big deal, but it can be very easy to forget which plant is which when they're lined up in the greenhouse, either waiting to sprout or with multiple varieties of single plants you won't be able to tell apart until they further mature. So,
grab some lollypop sticks and get your children to label them!
Doing so will help them learn plant names, give them a sense of contribution, and encourage them to show more interest in those plants.
It's time to get creative!
Get creative with their labels, with paints and colour to draw the veggie or fruit that will eventually appear on the plant! It is fun and educational!
If you've got some spare clay plant pots, how about an afternoon of painting and creativity? Get the kids to decorate their own pots for their plants to grow in!
5. Bug Hunting
Some bugs are beneficial for the garden, why not see how many creepy crawlies they can find and explain how these bugs are good for the garden.
Getting kids interested in the mini beasts in the garden is a great way to teach them about how beneficial bugs are important when it comes to pollination and the garden life cycle!
Optional tools to inspire your little adventurer(s):

A magnifying glass.

Colouring pens and or pencils.

A notepad to note their findings.
A camera to snap photos of the bugs they've discovered.
Activities fit for an adventurer!
Let's go on an adventure! Search the garden for bugs, take some photos and a few notes about their habitat, what they look like and why they are beneficial to the garden, then create your own bug scrapbook; this is a great way to explore which bugs are garden throughout each season and why they are important.
There are a lot of ready-made bug hotels on the market, but how about getting the kids outside to make their very own bug hotel, this can be done with materials that you may already have in the house or garden. For more inspiration, take a look at our article on building and running their very own
bug hotel
.
6. Bird Watching
Just like bugs, birds are a very important friend to the garden, in the summer they will eat the pests that like to munch on your plants (like slugs and snails!). It's important to ensure birds have access to food in the colder months as well as a safe and cosy home to nest and raise their hatchlings!
Tools to encourage more birds into the garden:
Nestboxes.
A bird table.
A birdbath.
Feeders with birdseed and fat balls.
Who's that tweeting? Hint, it's the birds in the garden!
Let's set up a cosy nest for birds to call their home, grab a bird box and fill with a few twigs, leaves, grass and a bit of wood chipping. You don't want to pack too much into the nestbox, just enough to let our feathered friends know it is a place they can call home.
Once the nestbox is set up, add some bird feeders around the garden with good quality birdseed and fat balls to ensure they have plenty to eat (especially in the winter when food is scarce!). Birdbaths ensure birds have a place to drink and wash, keep these cleaned regularly to avoid the spread of germs!
Once your garden is ready to welcome some new residents, take note of which birds regularly visit, what does their chirping sound like and what time of day do they like to pay a visit?
Let us know in the comments below and across our social media channels what your little gardeners are up to in the garden!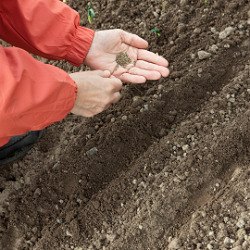 Gear up and grab some seeds!
Great gardens always start with seeds, grab a few packs today.
SHOP SEEDS
It's check-in time at the bug hotel!
Making your own bug hotel couldn't be easier and can be made using lots of items you might have in the garden or shed already! In return for your hard work, the wildlife will have a cosy space to lodge and call their own. Let's get started!
CHECK-IN HERE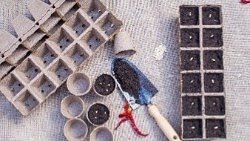 Tips for growing plants from seeds
Our top tips for sowing seeds and all of the essentials you need for successful germination and growth!
READY...STEADY...GROW!
Comments (0)
No comments have been submitted yet.
Why not be the first to send us your thoughts
Leave A Comment
Thank you for your comments, they will appear shortly once approved.