Top tips for growing vegetable and flowering plants from seed.
Must haves:-
Good quality seed sowing compost.
Vermiculite.
New trays and pots.
Presser board.
Heated propagator.
Good quality packets of seed.
Top tips
Buy new seed sowing compost each year.
Follow the germination instructions on the seed packet.
Where appropriate cover seeds with vermiculite.
Water pots and trays from below. (Use a plant stimulant such as Revive to improve germination)
Germinate seed in a heated propagator.
Sow seeds at the right time of year and only when weather conditions allow you to move seedlings on from the windowsill to the coldframe, greenhouse or conservatory without a check.
Raising young plants from seed can be very satisfying and is a cost effective way of producing large numbers of bedding and vegetable plants and a wide range of hardy annuals and herbaceous perennials for your garden.
All you require is a good quality seed sowing compost an understanding of the best seed sowing techniques and a brightly lit windowsill or greenhouse to locate a heated propagator.
It's all about the compost.
At the beginning of the new season purchase fresh bags of seed sowing compost. Store in a frost-free environment and warm it up just before opening, by placing in a utility room of conservatory.
On opening, fluff up the contents of the bag as if it is a cake mix, making sure it is lump-free. You should now almost be able to 'pour' the compost into your chosen pot or container and with a minimum amount of levelling off, using a ruler or straight piece of wood, create a perfectly smooth, flat surface on which to sow seeds. Tap the pot once on a hard surface to remove particularly large air pockets, that might lead to the collapse of the compost structure when watered.
Good compost preparation is an essential part of ensuring swift and consistent seed germination
Having scored off the excess, gently press the compost using a board to deliver the correct sized gap between the compost surface and the lip of the container.
Ensure you end up with an even surface by applying the correct pressure with your board.
Use a presser board to a achieve a 5-10mm, 2-5mm and 0mm gap between the top of the container and the surface of the seed compost.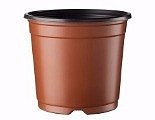 Pots
Our range of round plastic plastic pots covers plant pots for seed sowing, pricking out and planting.
Read more
Sizing up small, medium and large seed
When sowing think of seed in three Plus 1 size categories; small, medium and large. The Plus 1 category refers to seeds such as pumpkins, sweetcorn and courgettes which can be direct sown into a 9cm pot and therefore won't require 'pricking out'

Small seed which includes the seed of plants such as begonia and lobelia and are almost dust-fine should be sown on the surface of the compost and left uncovered. There should be no gap between the surface of the compost and the top of the container. On germination the seed begins to grow in the best available light and so the quality of the seedlings is improved.

Medium seed and this can include the seed of bedding plants such as ageratum or agastache germinate best when covered with a thin layer of vermiculite. Use your presser board to provide a 2-5 mm gap for this seed size.

Large seed which includes the seed of plants such as canna, cosmos and marigold germinate best when covered with a 5-10mm layer of vermiculite.

Sowing for success
Sow thinly to reduce the risk of the seed being effected by a damping off disease. This will also reduce the competition for light and so improve the quality of the germinated seedlings with less likelihood of them becoming straggly and stretched.

As a guide, expect to sow up to 50 tomato seeds in a 9cm pot, a smaller number for larger seeds.

Once you have finished sowing, using a presser board, gentle press the seed into the surface of the compost. This will help anchor the germinating seedlings when the radical (root) first emerges from the seed.

Now cover the seed with vermiculite by pouring over the top of the container out of a 9cm pot. Gently tap the surface of the vermiculite using the palm of your hand to level it off. Make sure you don't move any of the seeds underneath! The vermiculite will now be flush with the top of your container.


Getting watering right
For best results water from below. Watering from above runs the risk of either disturbing the seed or the growing media or both. Stand the completed containers in a tray of tap water and allow the pot to draw up the water. Ensure that the complete soil profile becomes moist without getting waterlogged.

Getting watering right from the start means that it is unlikely that you will need to water again before most seeds germinates. Over-watering early on can lead to the spread of damping off diseases and grey mould, both can cause seedlings to collapse and die.

To improve the health and vigour of your germinating seedlings consider the incorporation of Revive at the initial watering. Revive is a microbial treatment for compost and soil and contains a strain of Bacillus subtilis.


Germination time
Writing in pencil add the name of the plant and the sowing date onto a plastic label. Insert a label into each pot. Place up to 10, 9cm pots into a small heated propagator ensuring that the clear plastic lid fits snugly over the top. If your heated propagator comes with a thermostat, for most seeds, set at 20oC. Germination temperatures should be included on the seed packet.

Moisture will quickly form on the lid of the container and perhaps every couple of days lift the lid and allow the water to run back down into the bottom of the propagator.

Germination times vary but within five days you will begin to see the seedling emerge through the vermiculite, it is at this stage that maximum light levels are required and you may now be able to remove the lid of the propagator all together or alternatively remove individual pots and place where they will receive maximum light levels. This will reduce seedling stretch and the risk of straggly seedlings.

Timing is critical and if it is too cold to place your recently germinated seedlings outdoors, in a coldframe or greenhouse then it was too early to start sowing seeds.

Why use vermiculite?
Vermiculite is a free flowing , moisture retentive and inert medium which when used as a covering for seeds , wraps the germinating seedlings in a warm , moist and humid 'blanket'. This is ideal for germination. It also allows light to pass through it which for some seed species is important for germination. Unlike if you cover with compost, vermiculite does not form a cap and the newly germinating seedlings will gentle ease their way through to the surface.

Article Written by: David Hide, RHS Master of Horticulture
Comments (1)
Been gardening for many years but found this article both useful and interesting. Always try to sow as thinly as possible. Seeds these days can be too expensive to waste. Thank you.
Reply
Leave A Comment
Thank you for your comments, they will appear shortly once approved.