How to grow garlic in pots
5 Minute Read
Garlic is so easy to grow and is low maintenance, in this guide we'll talk you through how to grow your own in containers!
Growing your own garlic requires little maintenance, aside from watering and weeding when required; it's straight forward and easy to grow. If you're lacking in garden space to grow in the ground or would just like to give growing in containers a go, read on to find out our top tips of growing your own garlic!
There's a huge difference in the flavour and the variety of garlic available to grow at home and you'll get a much richer flavour than the kind you can buy at the supermarket. It's worth noting that shop bought garlic (grown purely for consumption) most likely wont grow as well as sets specifically for planting, leading to disappointing results.
There are two main types of garlic, known as
softneck
and
hardneck
. The main difference is that hardneck garlic tends to have an intense flavour and produces larger cloves, while softneck produces smaller cloves.
You can buy garlic sets from garden centres or online from reputable sellers.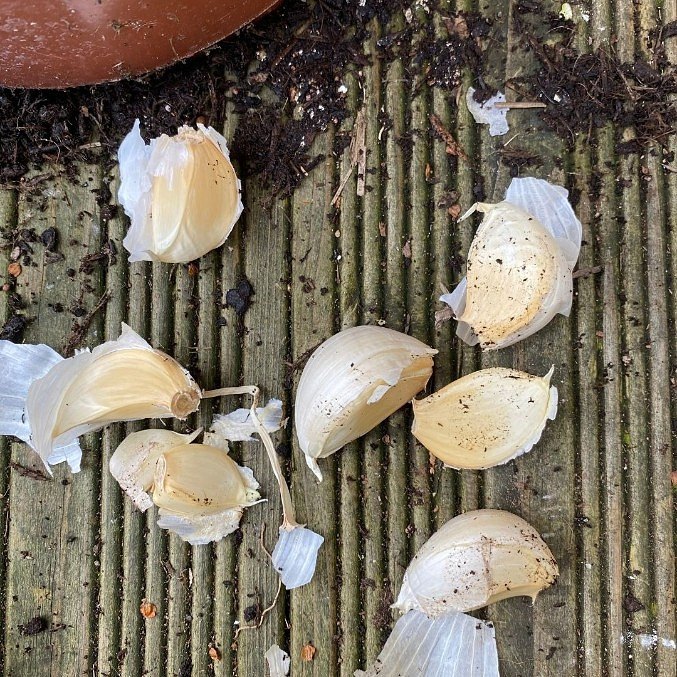 [Image taken October 2021]
Garlic has a long growing season from planting to harvest, 8-9 months to be exact, but don't be put off, it's worth the wait! Garlic will need a period of cold weather for the bulbs to develop properly, so planting between late autumn and early winter is the best time to get planting.
Garlic will grow best in a sunny position, and like many plants, damp/humid soil will increase the risk of disease, so it's worth keeping a close eye for potential issues.
Select your container & compost
We recommend a
sturdy plastic pot
with drainage holes for container growing, aim for around a depth of
9 inches
to ensure enough room for the roots to grow. The bigger the pot, the more cloves you can plant, for example a
50L pot
could house around
10-15 cloves
.
For reference, we have used several
15L pots
to grow our garlic, with roughly
3-4 cloves
per pot.
Break apart your garlic bulbs into individual cloves and remove as much of the white papery covering as you can, but do not 'undress' the garlic fully!
Next, pop your individual cloves pointy end up into the compost around
3 inches deep
. Aim to space the cloves out by roughly
3 inches
so they have enough room to grow and form into bulbs. Once the loves have been planted, add a layer of
mulch
(we used
strulch
) to help insulate the pots through winter.
During really cold weather, apply a protective layer around the pots to further insulate and place in a spot that is away from harsh winds and weather.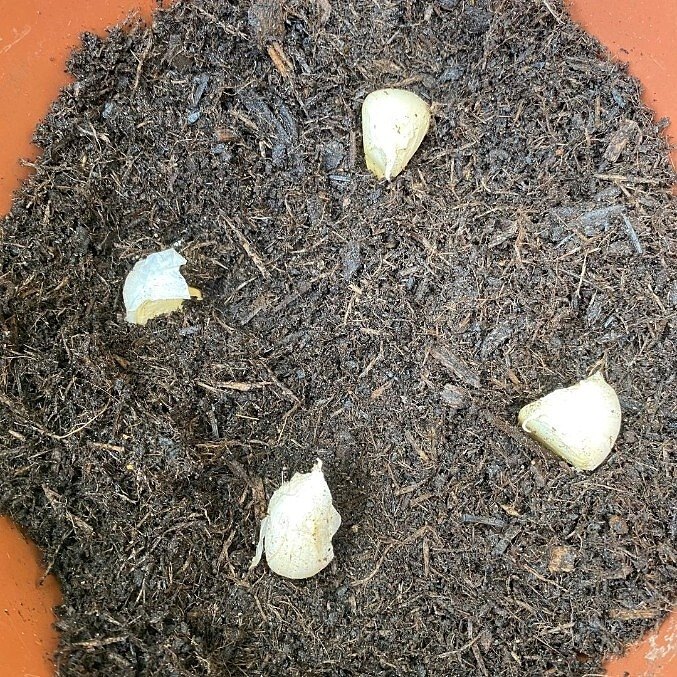 [Image taken October 2021]
Once spring has arrived, you can move your pots back into a sunny position and let it soak up the sun. Remember to keep watering and to give it a feed with an
organic fertiliser
, for a quick boost. Once summer rolls around, you'll notice a scape growing, this looks like a flower stalk, and is also edible. Cut this off to your garlic can focus its energy on the bulbs.
Once you notice the foliage turning yellow and slightly wilt (for us, this is roughly mid July, if planted in October) it's time to harvest.
Gently loosen your bulbs out of the soil or tip out all of the
compost
and marvel in the beauty that is your very own home grown garlic.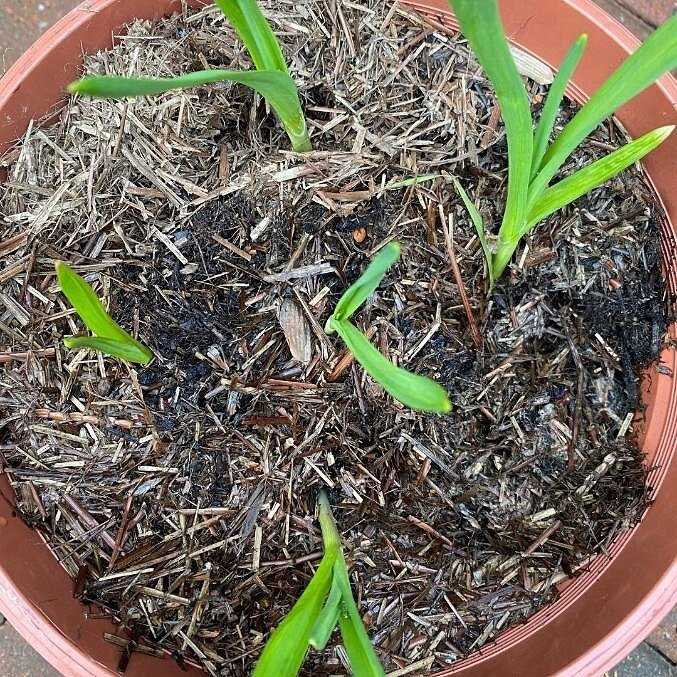 [Image taken October 2021 - one to two weeks after planting]
So you've waited 8-9 long months to get here, but you will need to wait just a little longer before you can start eating your garlic. One of the easiest ways of curing your garlic is to hang them in bunches, tied by twine in a cool, dry place with good airflow.
Once the garlic has dried out it's ready for eating! Congratulations on successfully growing your own garlic, now, who's for some garlic bread?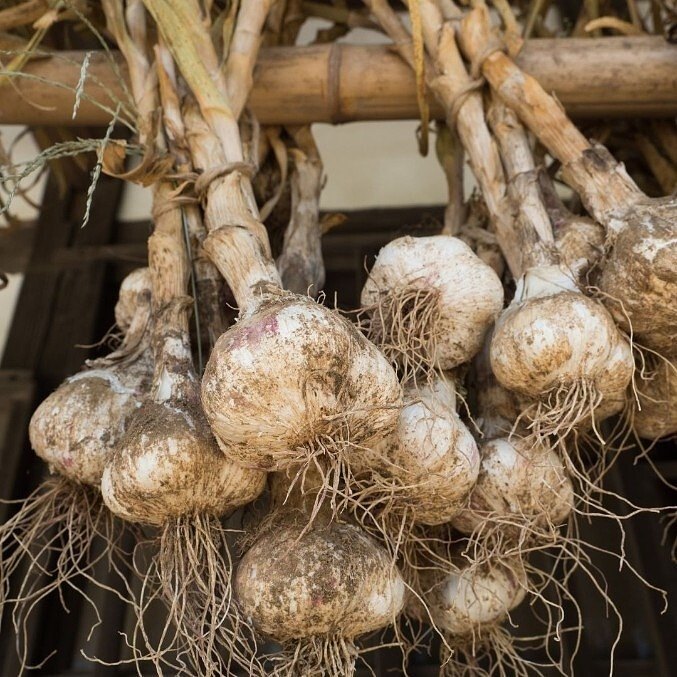 Tags:
compost
,
Fertiliser
,
Mulch
,
Peat-free
,
plastic plant pots
,
Watering
Comments (0)
No comments have been submitted yet.
Why not be the first to send us your thoughts
Leave A Comment
Thank you for your comments, they will appear shortly once approved.