Osmocote Professional Fertiliser
2 Minute Read
Now available to buy online
Osmocote is a brand of slow release fertiliser that has been used by the professional horticulture industry for generations, and is now available to you to buy online from The Garden Superstore.
Osmocote's steady release of nutrients, in small quantities everyday, has made it the preferred choice amongst professional growers. Either in granular form mixed into your potting mix or by tablet form pushed down into the growing medium, it is activated by temperature and moisture to deliver the best possible growth results.
Because it is a controlled release fertiliser, you use less of it, meaning you save money. It doesn't overfeed your plants, and because of the small quantities they get everyday, it's also hard to underfeed them too.
The Osmocote Range
Available in Granular (1kg or 25kg) and tablets (ideal for hanging baskets), it is suitable for use on a wide range of trees, shrubs and plants. Guidelines are as follows:
3 - 4 month formula: ideas for bedding and patio plants.
5 - 6 month formula: ideal for shrubs and container plants.
8 - 9 month formula: ideal for strong growing plants and trees.
12 - 14 month formula: ideal for strong growing mature plants and trees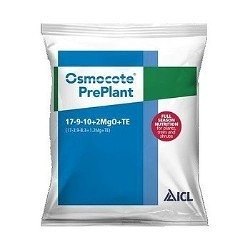 The industry standard fertiliser
Since it's introduction on our site, Osmocote has been hugely popular with gardeners who are now able to use this professional product in their gardening ventures.
SHOP FOR OSMOCOTE
*Osmocote is a professional grade gardening product. Use safely. Read the label and product information before use.