Pruning roses: Our expert guide
10 Minute Read
It makes you smile, doesn't it. The sight of that first rose emerging in the garden in June. Simple, yet bold, and smelling divine - mother nature at its best.
Roses are distinctly evocative, calling on memories of a childhood in your grandmother's garden, walking through beautiful rose gardens in the park on a summer's day, or as a way of remembering someone dear. No wonder so many of the varietals are named after specific individuals.

The variety of roses, both in colour, shape and size, make them a popular plant, but how best to take care of your roses so they can truly flourish?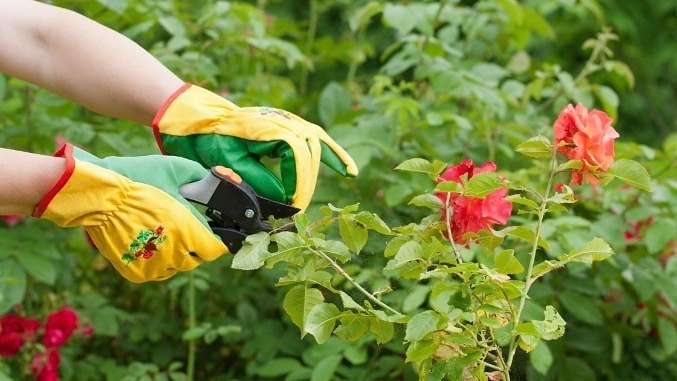 When to prune rosesFebruary
and
March
(Northern Hemisphere)is generally the time when gardeners should start pruning. In the UK's southeast, you should prune in
late February
, but in the north, and in colder areas, wait until
March
, after the last frost.
February to March: Hybrid tea, floribundas, groundcover roses, patio and miniature roses, shrub roses.
Late summer: Rambling roses.
Winter (December to February): Climbing roses.
Some time and effort at this time of year will guarantee you maximum benefit in the 'golden days of
June
and
July
. Here are our top tips to help ensure your roses meet their flowering potential, are high quality, disease-free, strong and well-shaped.
Firstly, remove any dead leaves.
Known as the 'three Ds' - a rule of thumb is to remove any canes that are dead, damaged or diseased
Cut dead wood back to the base. Use sharp loppers for thick stems.
Next, open the centre of the plant.
Make cuts at a 45-degree angle, approx. 5mm up from a bud eye (where branching occurs), which is facing toward the outside of the plant. It is important to angle the cut away from the plant to prevent rain water from collecting in the fresh cut. This will also encourage new growth outward, which creates less crowding in the middle.
Remove thin, weak, twiggy branches - those that are thinner than a pencil.
Prune the remaining canes. Always use sharp pruning shears to avoid damaging the plant.
Clean up. Leaves and cut branches could have diseases and pests on, so be sure to clear them away.
Don't forget to feed your roses - they need proper nutrition.
Lastly, mulch the base with bark chips.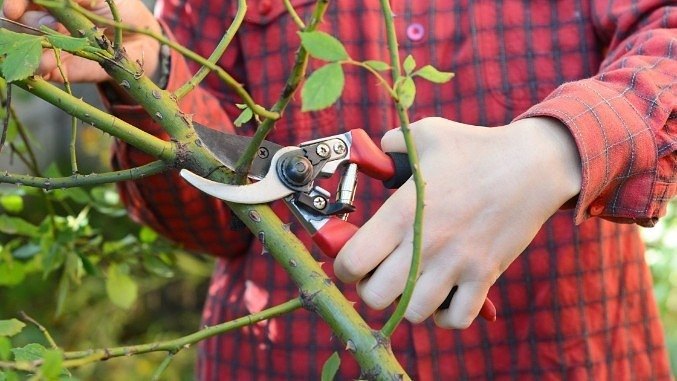 Did you know, it is near impossible to kill roses by over-pruning, no matter how thick the branches. Pruning actually triggers growth - cutting produces a hormone called Auxin in the main stem, which sends it to the freshly cut stem and encourages the production of new shoots.
Top tips from The Garden Superstore
The movement of air through the rose bush dries the leaves, which prevents foliar diseases. For this reason, we recommend you keep the bush vigorous and open to allow for better air circulation through the plant.
Deadhead your roses in the summer, cut back in spring.
Pruning allows you to dictate the shape of the plant (outward cuts encourage outward growth and vice versa).
Your gardening toolkit for rose pruning
Your roses will flower year on year, bringing joy to your garden - a true symbol of happiness. Prepare yourself with a few essentials to help make the job easier.
Here are our recommendations, the highest quality tools and equipment, all of which are available through our
website
:
A good quality pair of gardening gloves to protect your hands
Felco 2 Classic Pruning Shears (also known as secateurs)
Felco Loppers (for thick stems)
Bark chips
Rose fertiliser such as Thomas Elliot Rose Food or Sinclair Bonemeall Organic Trees Shrubs & Roses Fertiliser
Extra deep plant pots for rose planting
It's time to focus on the garden again, and what a wonderful first job to get started with. Time invested now will pay dividends, so enjoy the task of pruning and reap the benefits in the months to come.
Briers Garden Gloves
A range of strong gardening gloves designed to last.
VIEW NOW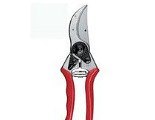 Felco 2 Classic Prunging Shears
Reliable, efficient and ergonomic. The trusted brand of secateurs.
VIEW NOW
Felco 22 Pruning Shear Lopper
Sturdy steel loppers built to cut through strong branches.
VIEW NOW
Melcourt Spruce Bark Mulch Chips
High performance professional grade mulch. 5-35mm chips.
VIEW NOW
Comments (0)
No comments have been submitted yet.
Why not be the first to send us your thoughts
Leave A Comment
Thank you for your comments, they will appear shortly once approved.