2 Minute Read
Taupe plastic plant pots are now available to buy online - The new recyclable grower pot.
Gardeners across the UK have been eagerly awaiting the Taupe plastic plant pot to reach the market after being featured on BBC Gardener's World with Monty Don - but the wait is over, they're here!
The new
Taupe Plastic Plant Pots
are made from carbon black-free, recycled polypropylene that
can be identified by near infrared
(NIR) and consequently
recycled through kerbside recycling schemes,
allowing you to easily dispose of garden pots in a way that has not been possible before.
Taupe pots (a greyish brown mushroom colour) are set to revolutionise potting. They look great and protect your plants roots from light, but also have the advantage over regular pots in that they can be easily recycled - what's not to love!
Here at The Garden Superstore we lead the way on innovative and professional gardening supplies, so are pleased to be the first retailer to offer gardeners the long-awaited recyclable plastic taupe pot.
We now have a range of taupe pots available to buy on our site, so the following is a guide to the current sizes and volumes we stock: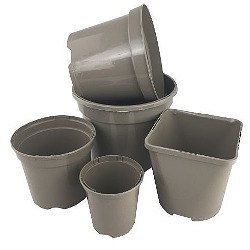 View the taupe pot range
Taupe pots are now available to buy online in a range of sizes. They're not all up on our site yet, so if you don't see the size you require then please contact us.
SHOP TAUPE POTS
Tags:
plant pot dimensions
,
plastic plant pots
,
taupe pots
Comments (5)
I have been plugging these as coming on BBC gardening programme and hoped that
someone would have them soon! Let me know when available. Thanks Angela
Reply
---
The Garden Superstore
14/03/19
Hi Angela, taupe pots are now available to buy online on our site.
Reply
---
Hi I would like to trial these for a masters dissertation, please can you let me know of availability.
Many thanks
Reply
---
The Garden Superstore
14/03/19
Hi Sophie, that sounds like an interesting study, taupe pots are now available to buy on our website.
Reply
Leave A Comment
Thank you for your comments, they will appear shortly once approved.