Vermiculite - How helpful can this mineral be?
7 Minute Read
Vermiculite is ideal for germination of seeds, used in potting compost holding more water and stimulates root growth, giving quicker anchorage of the plant and improved uptake of nutrients.
This characteristic of exfoliation, which is the basis for commercial use of the mineral, is the result of the mechanical separation of the layers by the rapid conversion of contained water to steam.
Vermiculite has been used in construction, agricultural, horticultural, and industrial markets for more than 80 years.
Vermiculite is mined predominantly in Australia, Brazil, China, Kenya, South Africa, USA and Zimbabwe.
Benefits
High water holding capacity
Good air holding capacity
Non-abrasive and non-irritant
Attracts excess nutrients
Facilitates re-wetting
High cation-exchange capacity
Neutral alkalinity
Does not deteriorate in storage (if kept dry)
Free from disease, weeds and insects
Insulates and minimises soil temperature fluctuations Inorganic and sterile
No known toxicity or fire hazard
Uses of vermiculite
Seed Germination
Vermiculite is ideal for the germination of seeds, because its aeration properties combined with its water holding capacity make it a very suitable medium for direct contact with the seeds.
For use pure, without compost, seedlings should be fed with a weak fertiliser solution when the first true leaves appear.
For use pure with large seeds, mix the seeds with vermiculite in a small polythene bag. Secure the bag at the neck and keep in a warm place. When the seeds just start to germinate, plant singly in small pots or trays filled with potting compost.
For outdoor seed beds, vermiculite can also be applied to give improved emergence and less risk of capping.
Potting Mixes
Vermiculite is used in potting compost to obtain a very light open compost which holds more water and facilitates re-wetting, thereby lengthening the time between watering. Vermiculite also has excellent ion exchange properties which absorb excess nutrients to then release slowly back to the plants via the finest root hairs.
For greenhouse pot plants and hanging baskets, use a 50/50 mix of vermiculite and sphagnum moss peat.
For bedding plants and nursery stock, use a 25/75 mix. For improvement to existing compost, add 20-25% by volume vermiculite and mix thoroughly.
Rootings and Cuttings
Vermiculite-sphagnum moss peat composts stimulate root growth, giving quicker anchorage of the plant and improved uptake of nutrients.
Thoroughly water the vermiculite before inserting cuttings, and do not compress around the base of the cutting.
For cuttings on the open bench or under plastic covers, use 50/50 mix.
For mist irrigation in summer, a maximum of 25% is recommended.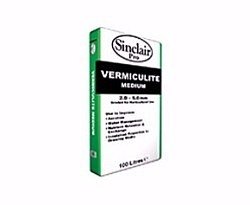 Sinclair Pro Vermiculite - 100 Litre Bag
These large, 100 litre bags of vermiculite are an ideal way for gardeners to purchase larger quantities for growing and sowing reasonable amounts of plants Vermiculite is a naturally occurring, non-toxic aluminium iron silicate mineral that has been heated to a high temperature to produce a lightweight material with a high surface area
find out more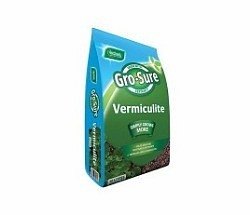 Westland Gro-Sure Vermiculite 10 Litre
Gro-Sure Vermiculite is a naturally occurring mineral which has been heated to high temperatures to produce lightweight, absorbent flakes, perfect for a range of gardening tasks.
find out more
Comments (0)
No comments have been submitted yet.
Why not be the first to send us your thoughts
Leave A Comment
Thank you for your comments, they will appear shortly once approved.