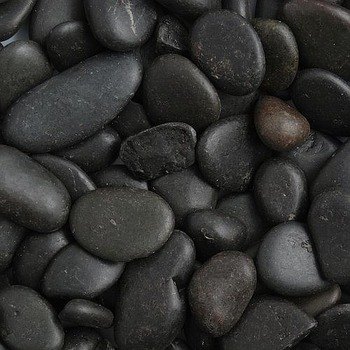 Black Pebbles 15mm-30mm 10kg
MV8001
£16.49
11+ £14.02

/ea
New stock expected shortly - please check back soon
Product information
Black Pebbles for garden projects. They make ideal ground cover for low maintenance gardens. Round black pebbles for paths and driveways or edging of beds & borders. Black pebbles are dark matt grey/black when dry and darker black when wet. Also available in larger size cobbles. Pebbles have been tumbled into round shapes and are naturally varied in size and shape.


Garden Pebbles and Cobbles

Garden pebbles and cobbles are a popular decorative stone for finishing a garden and keeping the edges of beds and borders or pathways tidy. Pebbles are smaller stones (under 64mm) and cobbles are larger. They can be combined to add interest to a garden.
Black pebbles for gardens
Dark matt grey/black when dry and darker black when wet
Popular decorative stone finish
Can be combined with garden cobbles
Technical specifications
Bag size
10kg
A depth of 75mm covers 0.16m2 / 1.75 sq ft
Other products you may be interested in