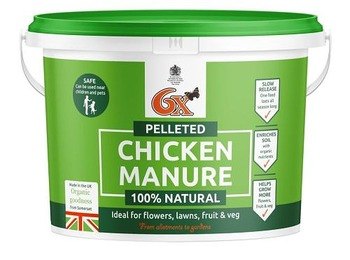 6X Pelleted Chicken Manure Fertiliser 8kg Tub
GROWC
£14.99
New stock expected shortly - please check back soon
Product information
Chicken manure pellets for flowers, lawns, fruit & vegetables. 6X Pelleted Chicken Manure is a 100% natural fertiliser relied on by gardeners for over 40 years. With 6x the nutrients of farmyard manure, this 100% organic fertiliser is peat, weed and pathogen free that has been sterliised. Child and pet friendly.


How to use 6x fertiliser

6x fertiliser is budget friendly. Use a handful per square metre for lawns and two handfuls for fruit, vegetables, and flowers. Can also be dissolved in water for an instant liquid feed. One tub can treat up to 36 square metres of garden beds or 110 square metres of lawn.
Chicken manure pellets
6x fertiliser can be used on flowers, fruit & vegetables
A budget friendly lawn fertiliser
6x the nutrients of farmyard manure
100% natural
Related products you may be interested in