Find out what to do in your garden now.
FEBRUARY
Ornamental Garden:
In late February, cutback hard (coppice) all coloured stemmed cornus (Dogwood) to within 15cm of the ground. This will maximise the number and quality of coloured stems on display for the the following year.
Heavy snowfalls – Gently shake off shrubs to prevent damage.
Prune Roses creating an open outward facing framework.
Prune clematis (late/summer flowering).
Re-shape borders with edging iron.
In late February – cutback deciduous grasses.
Remove weeds from borders as necessary.
Prune out dead; diseased or damaged wood from trees and shrubs.
Complete pruning of Apple/ fruit trees if not already done.
Mulch borders if not already done in autumn – taking care of emerging bulbs.
Cut back side shoots of wisteria, pruning to two to three buds.
Plant new climbers such as clematis / honeysuckle.
Prune summer flowering deciduous shrubs that flower on the current year's growth – eg buddleja, lavatera.
Sow hardy annuals for summer colour.
Vegetable Garden:
Plant seed potatoes and chit tubers by placing them eye end up in trays or egg boxes in a light, cool, frost free place.
Sow crops like broad beans, lettuce etc. and place in greenhouses or cold frames for an earlier harvest.
Now's the time if you want to think about planting asparagus – keep weed free and mulch with a thick layer of organic matter.
Apply general fertilisers including Q4, grow more / blood fish and bone to borders.
Mulch tree and cane fruit after pruning.
Plant garlic.
Written by: Alex Bell, www.alexbellgardendesign.co.uk

Now is the time to prepare for the season ahead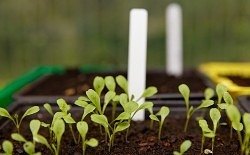 See what other gardeners are buying
To help you stay on top of your February gardening jobs, we've rounded up the most popular products other gardeners are now buying.
VIEW POPULAR PRODUCTS
Comments (0)
No comments have been submitted yet.
Why not be the first to send us your thoughts
Leave A Comment
Thank you for your comments, they will appear shortly once approved.