Our guide to seed sowing compost
10 Minute Read
With so many specialist composts on the market, how do you know which is the best for your seedlings? Here at The Garden Superstore, we sell a wide range of seed composts. To help you choose the right one for sowing seeds, we take a look at the products available to buy today and use tomorrow.
Do I need to use specialist seed compost?
Seeds and seedlings are delicate and need all of the help they can get if they are to grow into healthy and strong plants. Selecting the right tailor-made
compost
for the job is key to ensuring seedlings get the right amount of nutrients early on - too many, in the beginning, is just as damaging as too few.
Seed composts
are specifically designed to provide the right balance of nutrients in order to create optimum growing conditions.
Seed sowing composts
contain the right balance of nutrients which are essential for healthy roots and growth, while standard potting composts are typically richer in nutrients and coarse in texture, which can be detrimental for sensitive seedlings and roots. For this reason, we always recommend using the appropriate composts targeted for the job at hand in order to get the best results.
*
Compost should be store in a dry location with the top sealed to retain moisture and minimise the risk of pests and disease.
What about peat-free seed composts?
There are a range of
peat-free options
when it comes to seed sowing composts and while peat is traditionally used due to being so fertile, due to the sustainability and bio-diversity concerns surrounding peat, many growers are opting for peat-free alternatives.
Peat-free composts
are just as good at aiding in germination as peat-based composts and while it is up to the individual, there are options available to those who want to move away from peat-based composts.
What are the best seed sowing composts?
This depends on your preferences as a grower, however, we stock only the best products in the business, the very same products professional growers use up and down the country, year after year. Let's take a look at each
seed and cutting compost
and their key points so you can make your choice in confidence.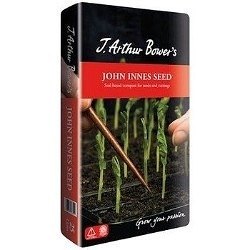 Best Seller: J Arthur Bowers John Innes Seed Compost
J. Arthur Bowers John Innes Seed Compost is loam-based seed sowing & cutting compost, regarded as one of the best seed composts in the UK for seeds & cuttings. Use John Innes seed compost to give your seedlings and plant cuttings a healthy start. Limestone reduces the acidity of this garden compost and sand bulks it out with trace minerals.
SHOP NOW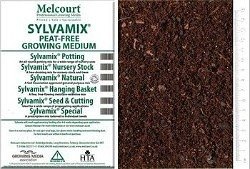 Best Seller:
Melcourt Sylvamix Seed & Cutting Peat-Free Compost 50lt
Melcourt Sylvamix Growing Medium is a peat-free seed compost for the propagation of vegetable seeds & cuttings. One of the best seed composts available in the UK, Melcourt Sylvamix is a mix of Growbark, propagating bark, coir and fertilisers that are long-lasting (up to six weeks) for healthy new plants.
This is a seed growing medium that is easy to water, holds its structure but is loose enough to pour into pots and containers.
SHOP NOW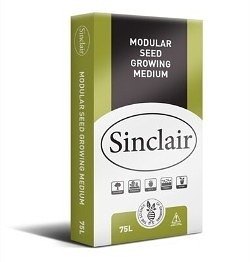 Best Seller:
Sinclair Modular Seed Growing Compost 75lt
Sinclair Modular Seed Growing Medium is a peat-based seed compost with nutrients, suitable for sowing seeds and transplanting plant cuttings into modular trays. This is a peat-based growing medium from the Sinclair Pro range with NPK nutrients. Peat in the seed compost helps to keep seeds damp before germination. The NPK (nitrogen, phosphates and potassium) nutrients help to establish healthy new plant growth.
SHOP NOW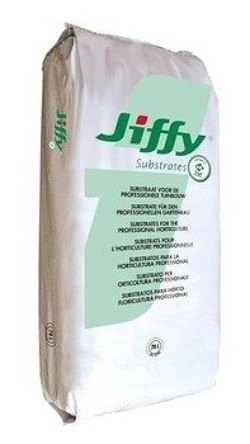 Jiffy Propagation Coir/Perlite 70/30 Mix Compost 70lt
Jiffy Tref coir compost with perlite mix. Coir and perlite mixes make the best seed compost for your garden seedlings. Perlite is recommended as a growing medium for seeds and cuttings as it provides aeration and speeds up propagation. Coir helps with water retention for healthy roots and is environmentally friendly as it is recycled from coconuts.
SHOP NOW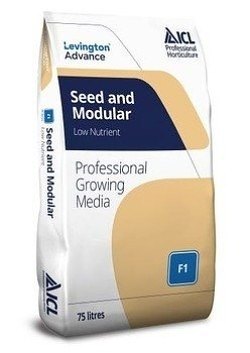 Levington Advance Seed & Modular Low Nutrient F1 Compost 75lt
Levington Advance F1 Compost is a low-level nutrient seed compost for use in modular seed trays. A professional growing medium with low levels of fertiliser for sensitive plants, it will still provide your seedlings and cuttings with all they need for healthy growth. Levington composts contain H²Gro wetting agent, a unique system that retains water within the growing medium.
SHOP NOW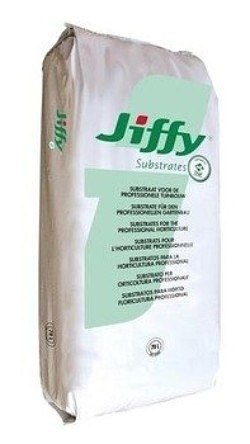 Jiffy GO M11 Seeding Compost
Jiffy GO M11 Seeding Compost is a high water holding capacity mix, designed for sowing medium and high vigour plants in a wide array of cell sizes. Suitable for sowing in open boxes.
SHOP NOW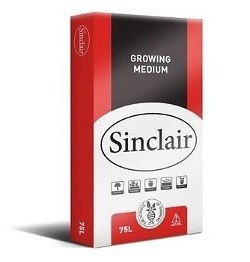 Sinclair Growing Medium Propagation Compost 75lt
Sinclair growing medium for plant propagation with peat (70%), bark & perlite (15% each). Peat holds water and retains nutrients. Bark provides aeration and drainage, as does Perlite. Good for ericaceous and non-ericaceous plants as seed compost and for rooting cuttings.
find out more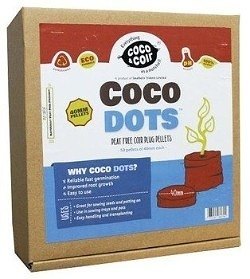 Coco Dots Peat-free Seed Starter Disks 40mm, pack of 50
Coco Dots netted coir pellets are perfect for starting off seeds. Each pellet is wrapped in a biodegradable net that rots away over time to minimise root disturbance. Simply place in a pot or tray with warm water and watch the coir expand. Once fully hydrated, sow 1 or 2 seeds in the top of each one, or insert a plant cutting.
SHOP NOW
Tags:
compost
,
seed sowing essentials
,
Top tips for seed sowing
Comments (0)
No comments have been submitted yet.
Why not be the first to send us your thoughts
Leave A Comment
Thank you for your comments, they will appear shortly once approved.